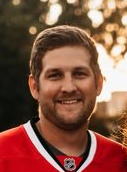 My name is William Beaudoin, and this is my first year as the Assistant Principal at Southern Boone Middle School. I've spent the last 8 years at Moberly Public Schools, where I taught middle and high school social studies. I was also the College and Career Readiness Coordinator, where I helped students transition from high school to their post-secondary plans.
I am originally from the Chicago-land area, where my parents still live. I earned my undergraduate degree and master's degree from Mizzou and will be returning to Mizzou to earn my specialist degree. My amazing wife also attended Mizzou and works for MU Healthcare. Go Tigers!
I am so excited to work with such a dynamic and strong group of educators and to work in the Ashland community! I'm proud to be a Southern Boone Eagle, and I look forward to all the great things we're going to accomplish!