Primary School Positive Behavior Support
What is Positive Behavior Support?
Positive Behavior Support (PBS) is a general term that refers to the application of positive interventions and system changes to achieve socially important behavior change.

PBS was developed initially as an alternative to aversive interventions used for students with significant disabilities who engaged in extreme forms of self-injury and aggression.

More recently, the technology has been applied successfully with a wide range of students, in a wide range of contexts, and extended from an intervention approach for individual students to an intervention approach for entire schools.

The focus is on creating and sustaining school environments that improve lifestyle results (personal, health, social, academic, work, etc.) for all students by making problem behavior less effective, efficient, and relevant, while making desired behavior more functional. In addition, the use of culturally appropriate interventions is emphasized.
What is the Purpose of PBS?
The purpose is to establish a comprehensive, data-driven system that gives schools the capability of identifying and treating building-wide behavior problems using empirically supported Technology (SWIS).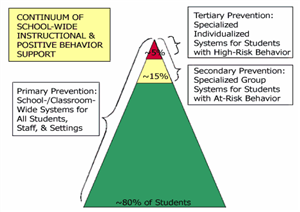 The attached document lists each behavior expectation by location. These behaviors are taught explicitly in all classroom and in all settings, to help students know expectations to be safe, respectful and responsible.
Southern Boone Primary School Expectation Matrix



I am SAFE

I am RESPECTFUL

I am RESPONSIBLE

All Settings

Walk with your hands at your sides.

KAHFOOTY

Report if you or someone is hurt or could be hurt.

Ask permission to leave.

Use kind words.

Follow directions the first time.

Use good manners.

Take care of school property.

Listen to the speaker with eyes and ears.

Treat others the way you want to be treated.

Do your best.

Be a problem solver.

Use peaceful words to solve problems.

Do your job.

Be a reporter, not a tattler.

Hallway

Stay on the same block row.

Short, Straight, Silent line.

Keep hands and feet off the walls.

Take the shortest route.

Bathroom

Keep water in the sink.

Wash hands with soap and water.

Allow for the privacy of others.

Use a peaceful voice.

One person in the bathroom at a time.

Be in bathroom only as long as needed.

Flush toilet after use.

Clean up after yourself.

Join class promptly.

Cafeteria

Sit with head down when finished.

Wait to be dismissed.

Stack trays neatly.

Eat only your food.

Use a peaceful voice in line and while eating.

Throw trash in trash cans.

Keep your table and floor area clean.

Help the lunch line by being ready.

Playground

Keep rocks on the ground.

Play safe.

Use playground equipment the way it's supposed to be used.

Walk quietly to your line.

Come to the blacktop when whistle is blown.

Take turns.

Include others.

Bus

Stay seated until the bus is completely stopped.

Walk to the bus.

Use a quiet voice.

Know and follow the bus rules.

Assemblies

Walk quietly.

Sit criss-cross applesauce.

Sit quietly.

Be respectful of our guests.