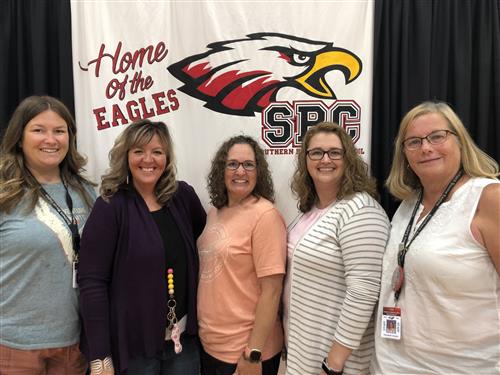 Jessica Bach
Hi! My name is Jessica Bach and I am a Reading Specialist at Southern Boone Primary School. My favorite part of my job is working with kids and seeing them become successful readers and writers. I love what I do, the kids I work with, and their amazing families. I have a Bachelor's degree in Elementary Education from the University of Missouri and a Masters Degree in Literacy from MU as well. I have additional certifications in Special Reading, Early Childhood, Library/Media Specialist, and Reading Recovery. My husband, Andrew, and I have three children (Emily, Katie, and Molly). We moved to Ashland in the summer of 2011 from Columbia, MO. As a family we enjoy playing games, swimming at the lake or the beach, hanging out with friends, watching musicals, and taking vacations to national parks or Disney World. My favorite National Parks are: Zion, Arches, Mesa Verde, and Acadia. But I also love the Everglades, Bryce Canyon and Sequoia...it's too hard to choose just one favorite!! I am very proud to be a part of such a terrific school and team of teachers. Southern Boone really is the best place to be!
Lori Condron
Lori has worked for the Southern Boone district since 2014 and at the Primary since 2020. She has an undergraduate degree from the University of Missouri and a Master's Degree from Northeastern State University in Broken Arrow, OK. She loves to help struggling readers develop a love for reading by building their confidence with word and language skills. One of the best parts of her job is that she gets to know her students in small groups and lives for those "Aha!" Moments. When she isn't at school, you will find her with her husband, Steve, and 3 kids, Kerington, Axson, and Brecklyn, on some sort of adventure or reading a good book herself.
Erin Sappington
I am from the KC area and I am the oldest of seven children. I taught for 6 years in other districts before coming to Southern Boone in 2012. I love living here, working here, and raising my three children here. My teaching philosophy is simple: I believe that every child can learn! I have a Bachelor's degree in Elementary Education and a Masters Degree in Educational Leadership in Instructional Coaching and Special Reading. I have certifications in Elementary Education, Special Education, Early Childhood, Special Reading, and Reading Recovery. My passion is to make learning fun, so that every child wants to learn! We are a team here at Southern Boone - I love to work with families, students, and the other learning specialists in our school to make sure our students gets the best school experience possible.
Amanda Catlin
My name is Amanda Catlin and I have been with Southern Boone Primary since 2014. I am an Ashland Native but now live in Columbia, Missouri. I received a Masters in Elementary Education in 2017. Then I completed my Reading Specialist Degree in 2021 from Columbia College. I worked as a second grade teacher for five years and moved over to a Reading Specialist/Reading Recovery Teacher in 2021-2022. I am extremely passionate about reading and believe every student deserve the best instruction to accomplish reading! The best part of my job is hearing a student say "I can read!" My significant other is Bryce and he is amazing at helping me raise my high school son named Dallas. We also have a cat at home named Evie Bea and a dog named Coco Mae. In my spare time, I enjoy going to the gym with Dallas, dancing, walks in nature, and baking.