The Southern Boone Learning Garden participated in the Missouri School Board Association's Student Showcase today at the Missouri State Capitol in Jefferson City. State legislators, school board members and school leaders from across the state attended the showcase. Thanks to Missouri First Lady Teresa Parson and State Representative Cheri Toalson Reisch for stopping by the Learning Garden's table.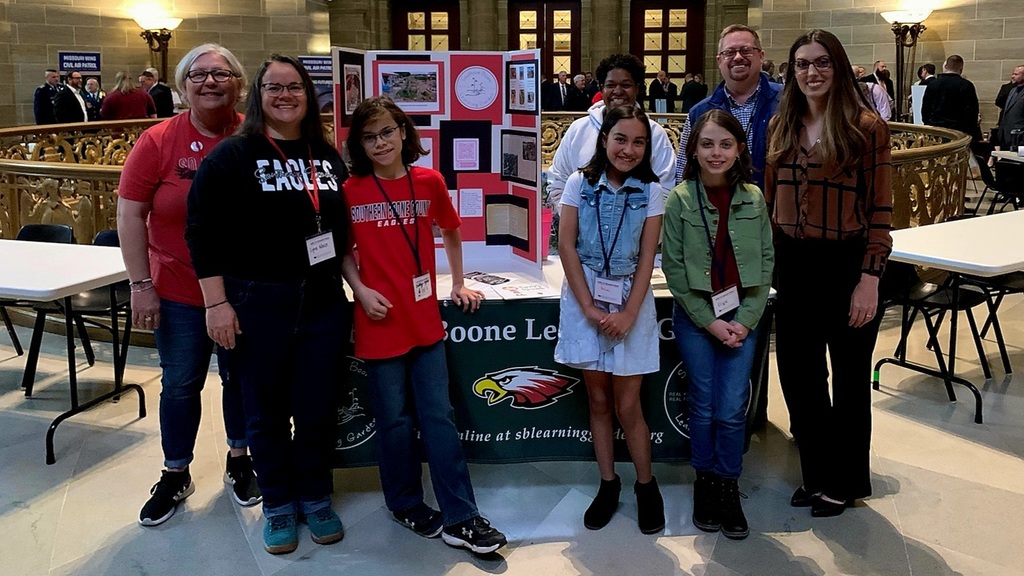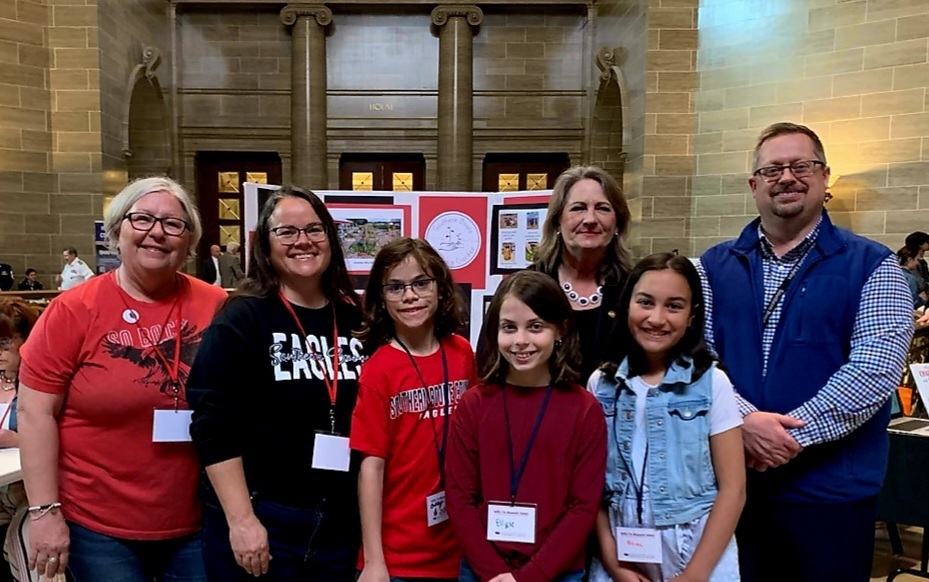 While students and staff are enjoying Spring Break this week, crews are busy installing new playground equipment at the primary school!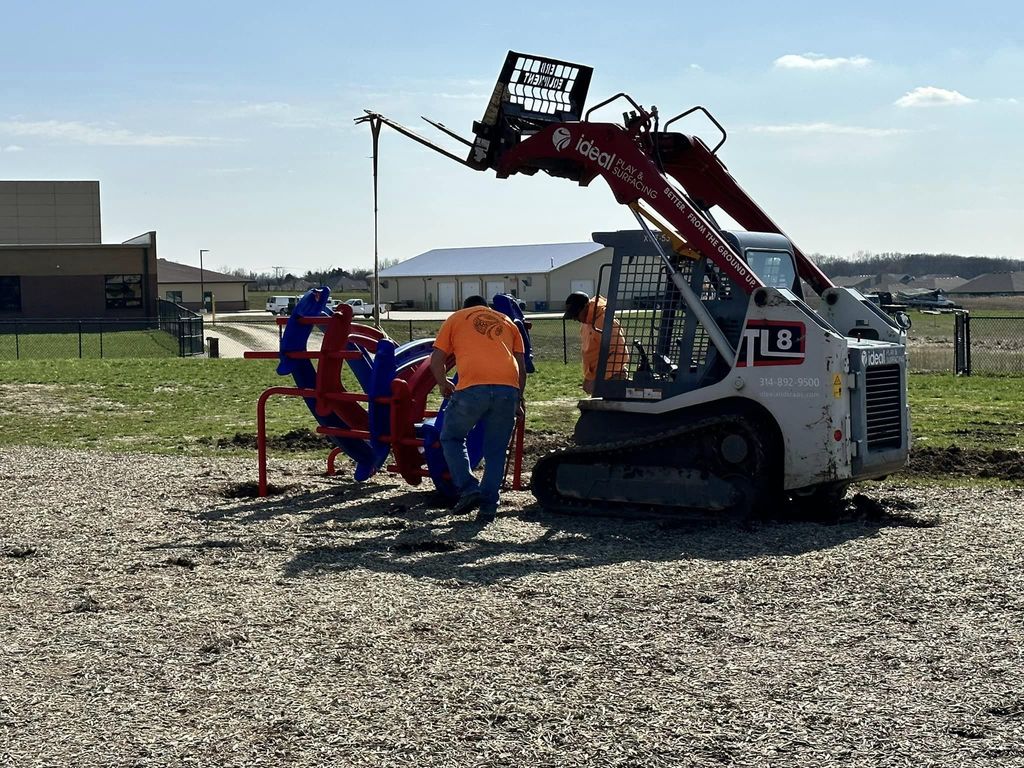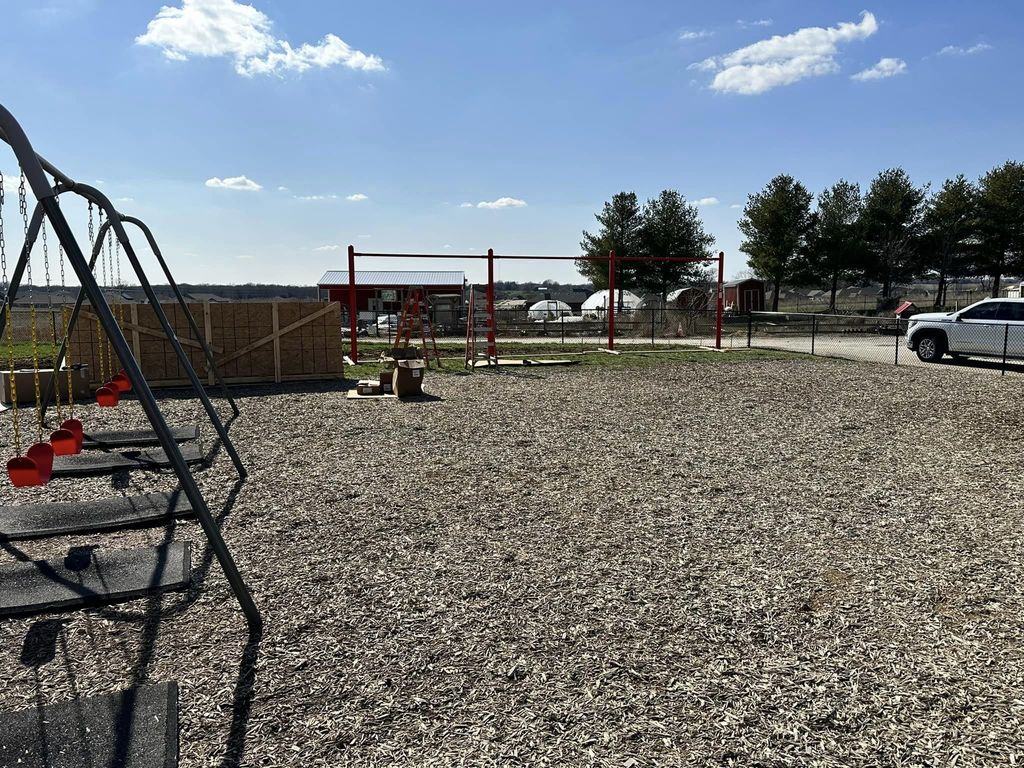 Members of the Southern Boone High School Choir competed in the district music contest on Saturday at School of the Osage. Congratulations to Charlie Lewis, Aurora Shipley and Alison Stowe for receiving an exemplary rating on their solos and will advance to the state music contest on April 29th at the University of Missouri.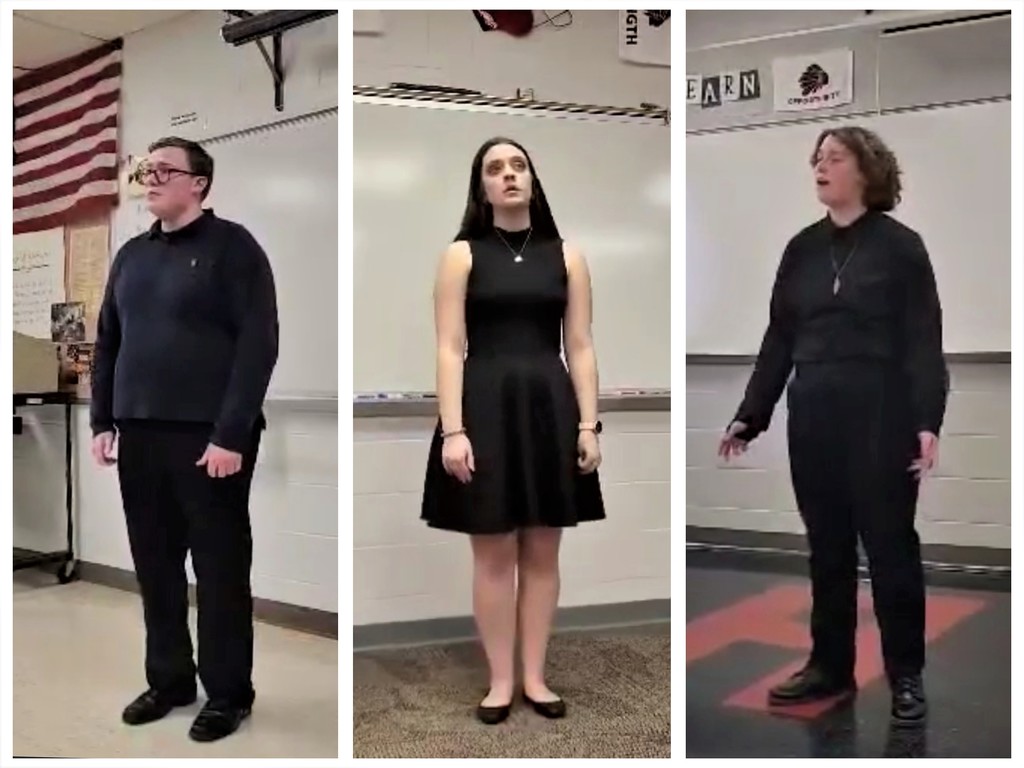 Last week, 2nd grade students at the primary school participated in a health promotion event. Nursing students from the University of Missouri shared information about age-appropriate health topics, which included stress management and emotions, physical education, the spread of germs, healthy food choices and summer safety.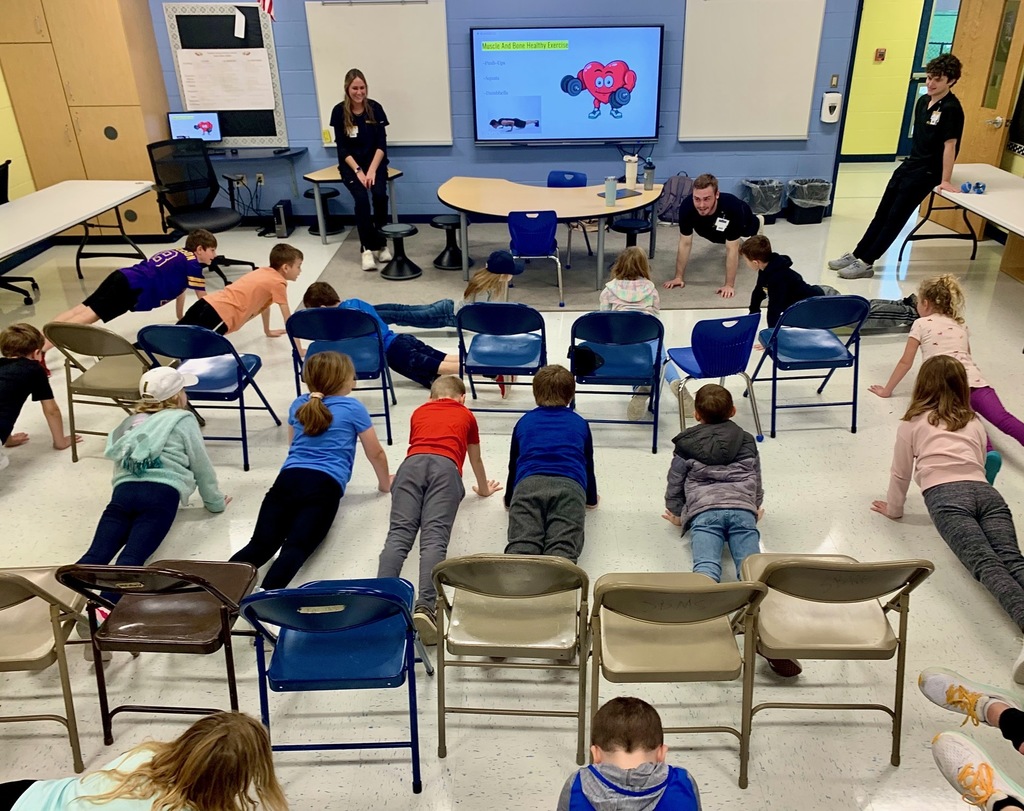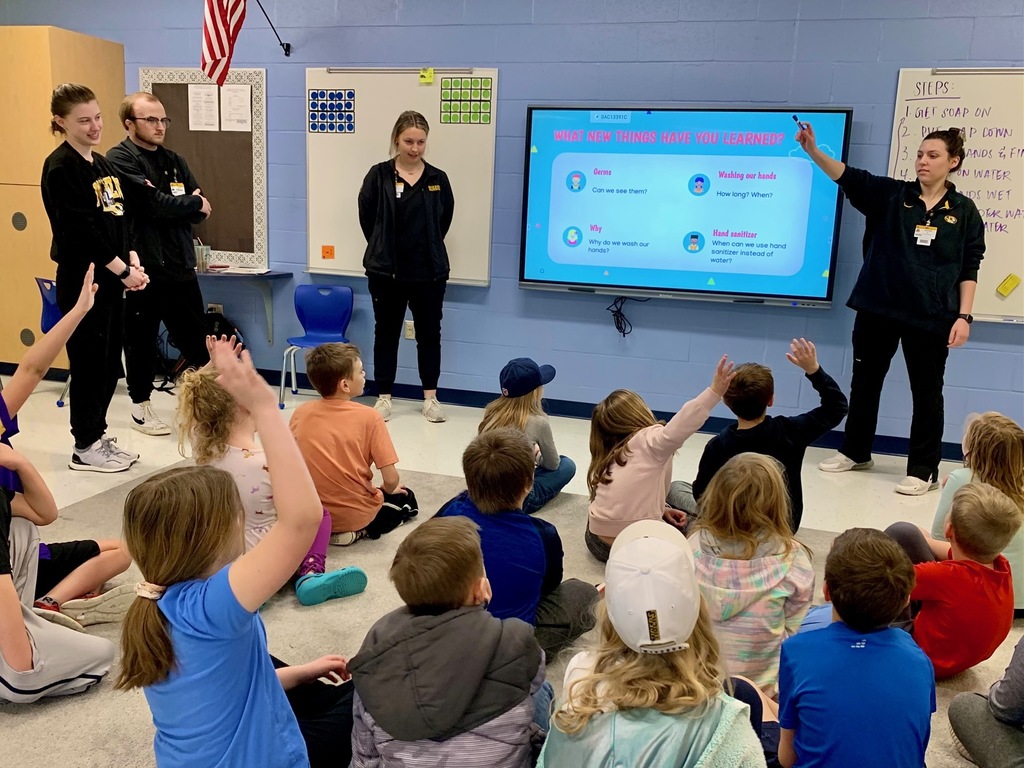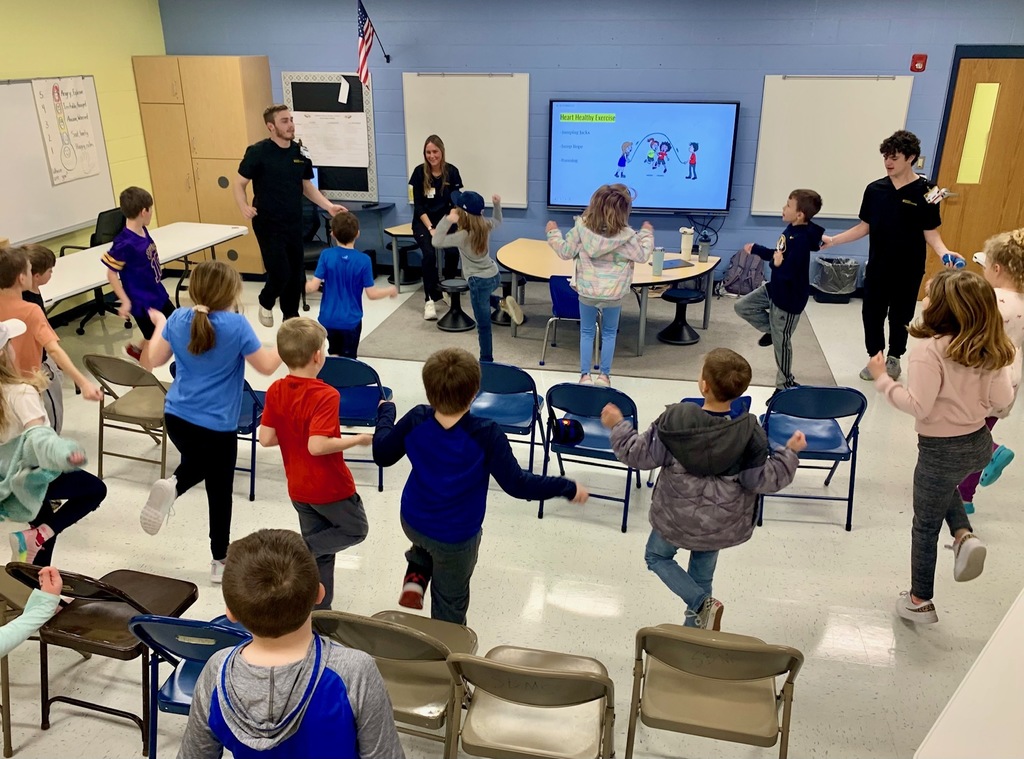 REMINDER: Spring Break is next week! The Southern Boone School District will not be in session March 27th-31st, 2023. View the 2022-2023 district calendar here:
https://5il.co/1931s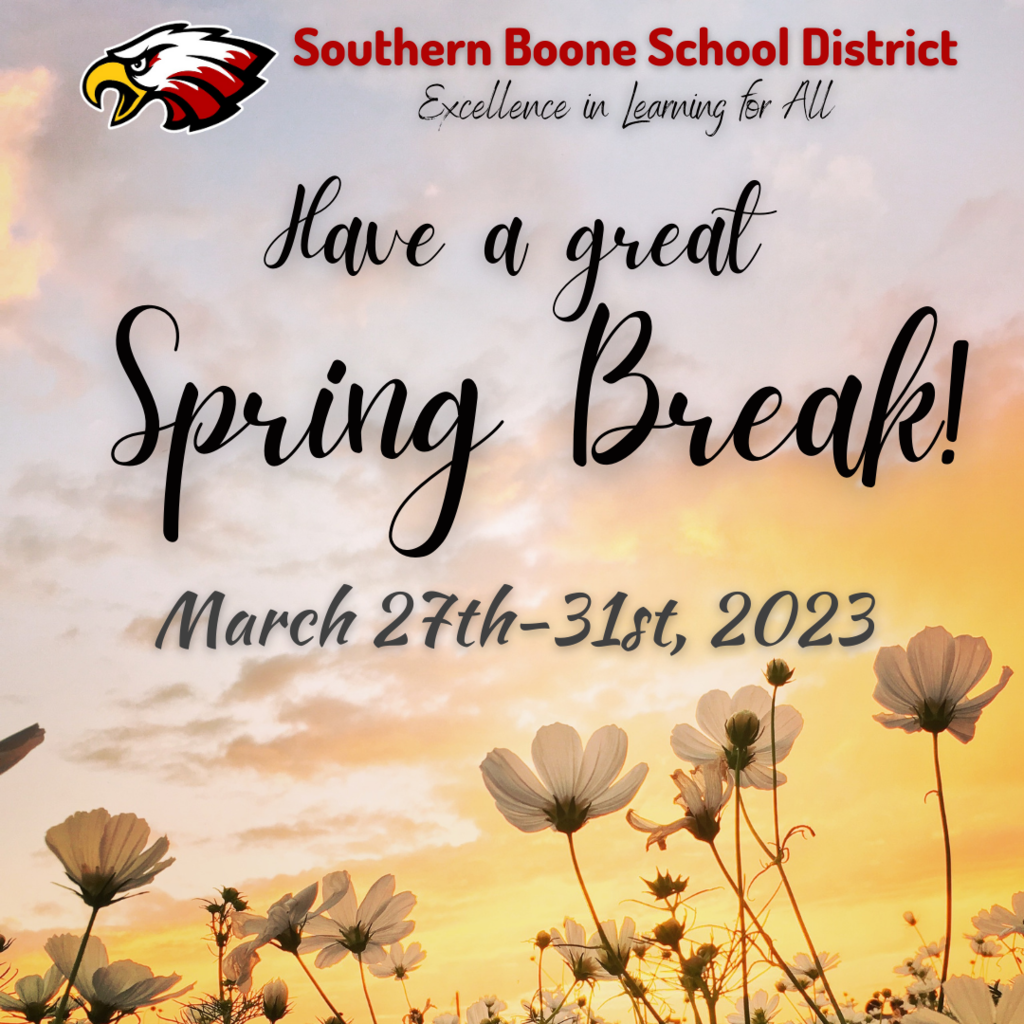 The 3rd grade music program was held Thursday evening at the elementary school. Thank you to all the parents and families for attending!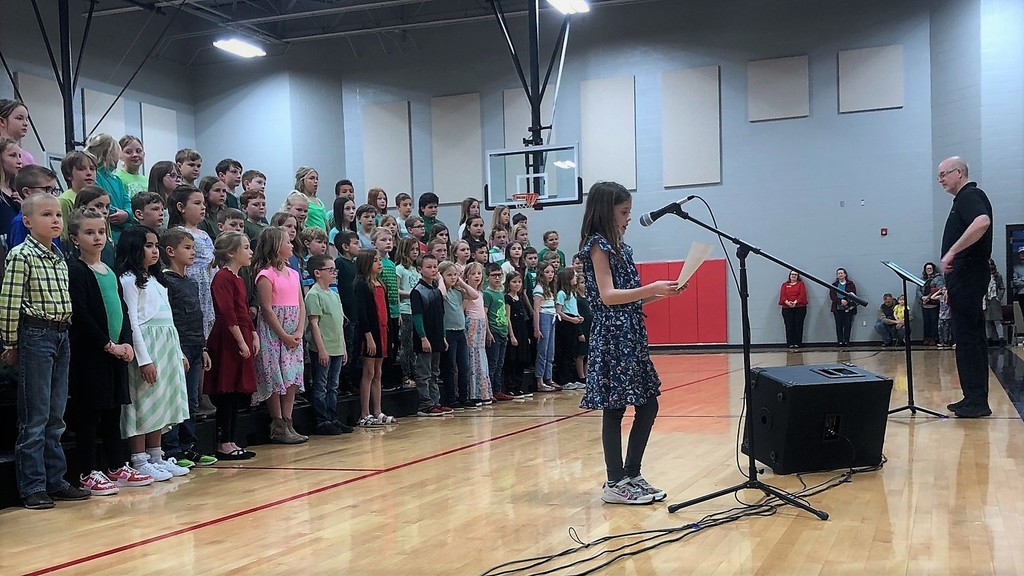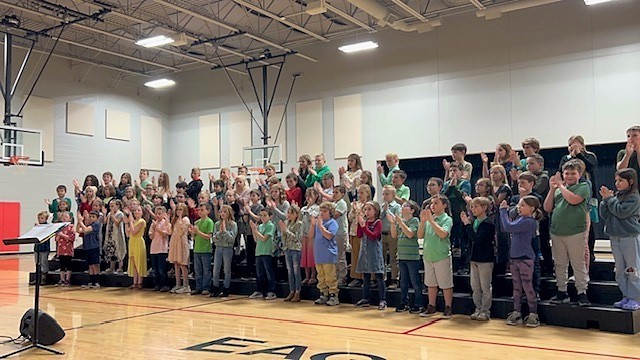 SAVE THE DATE: The 8th Grade Party will be Friday night, May 12th. Any parents interested in helping with the event can contact Nicole Morris at
nicolemorris1018@gmail.com
.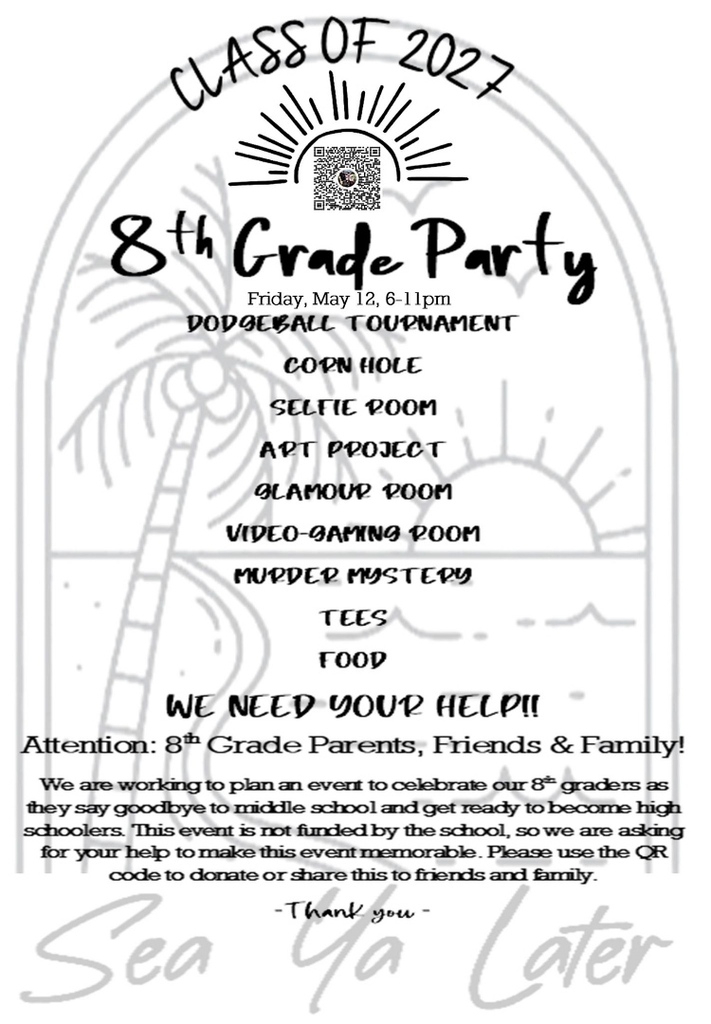 Download the Southern Boone App today! With the app, you're able to stay updated with the latest school news, important information, upcoming events and more. Learn more about the app at sbschools.us/app. ANDROID DEVICES: bit.ly/3wtyKkg APPLE DEVICES: apple.co/3CUg3HF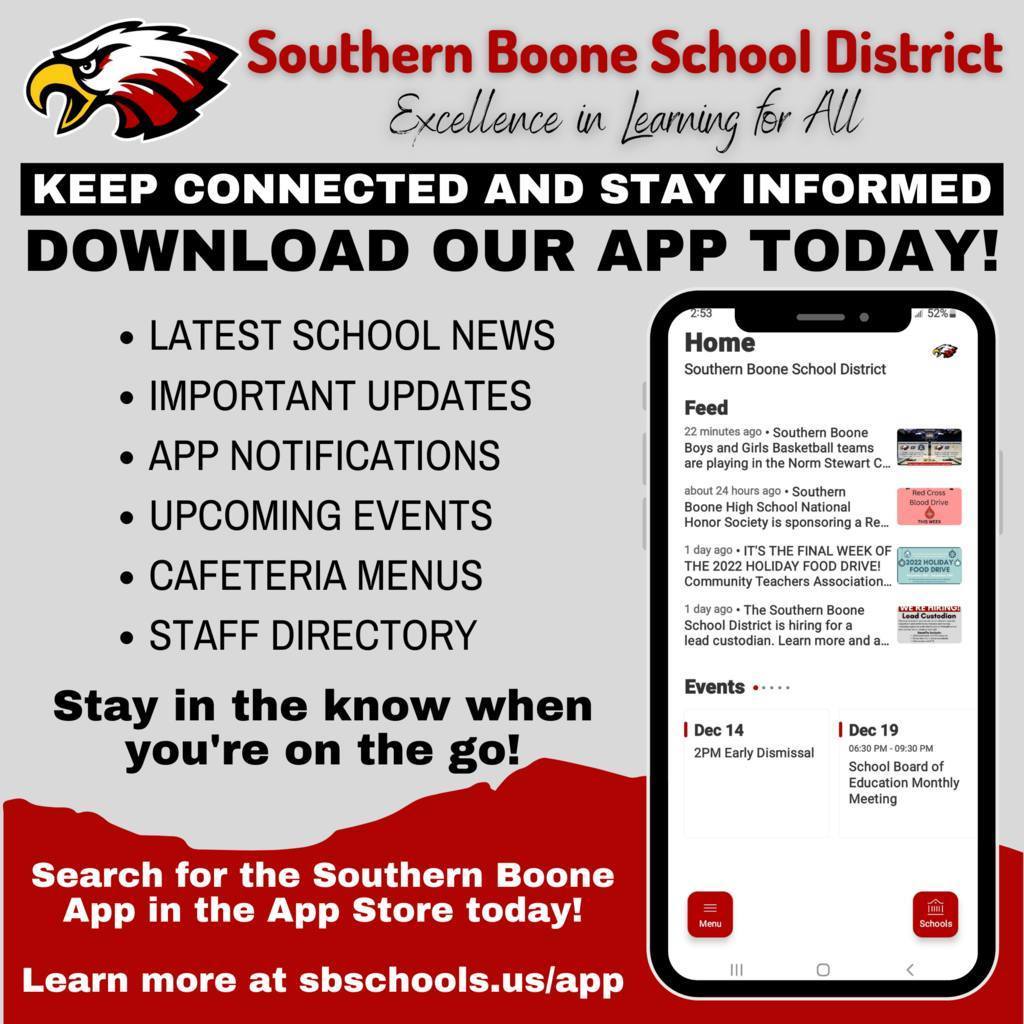 Mrs. VanDeZande's high school girls team sports class recently completed a team challenge unit. The class was divided into 4 teams and competed against each other on daily challenges. Some of the challenges were based on physical abilities, memory, strategy and math skills.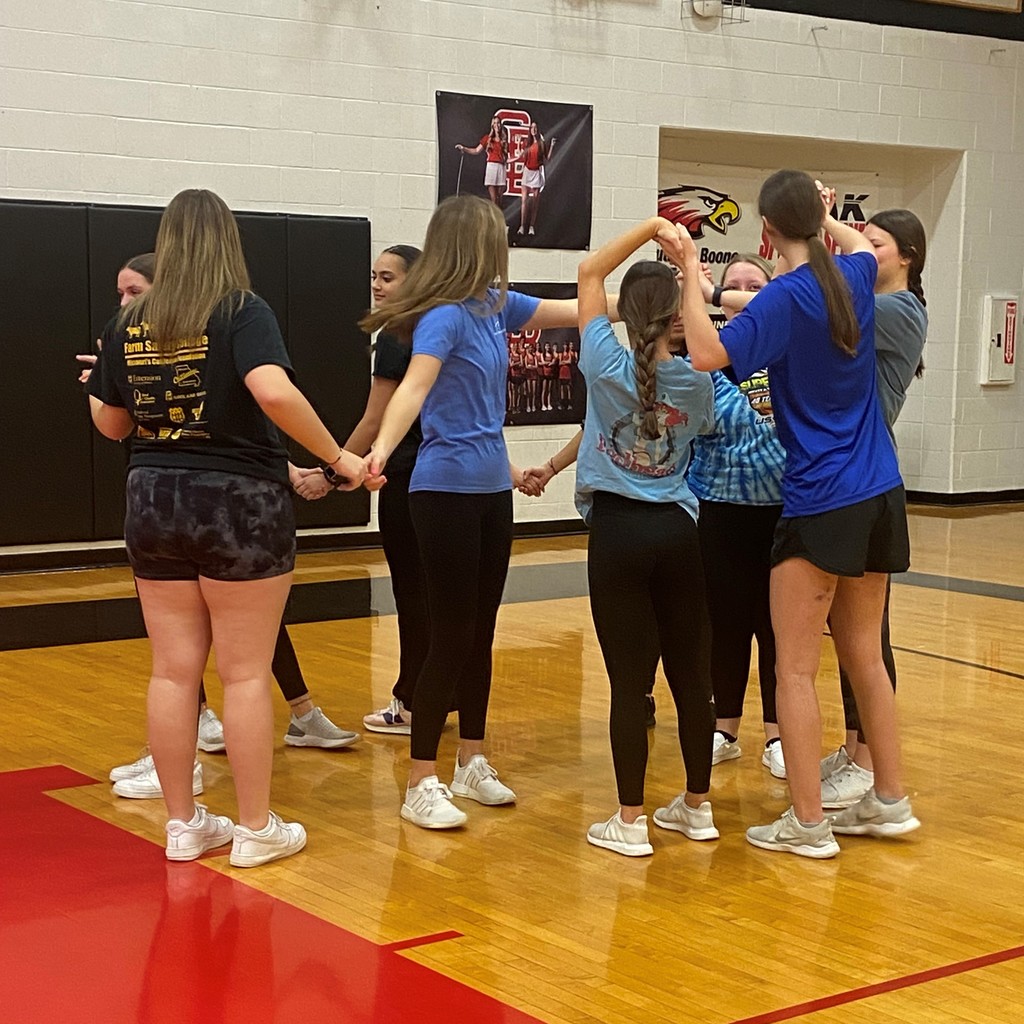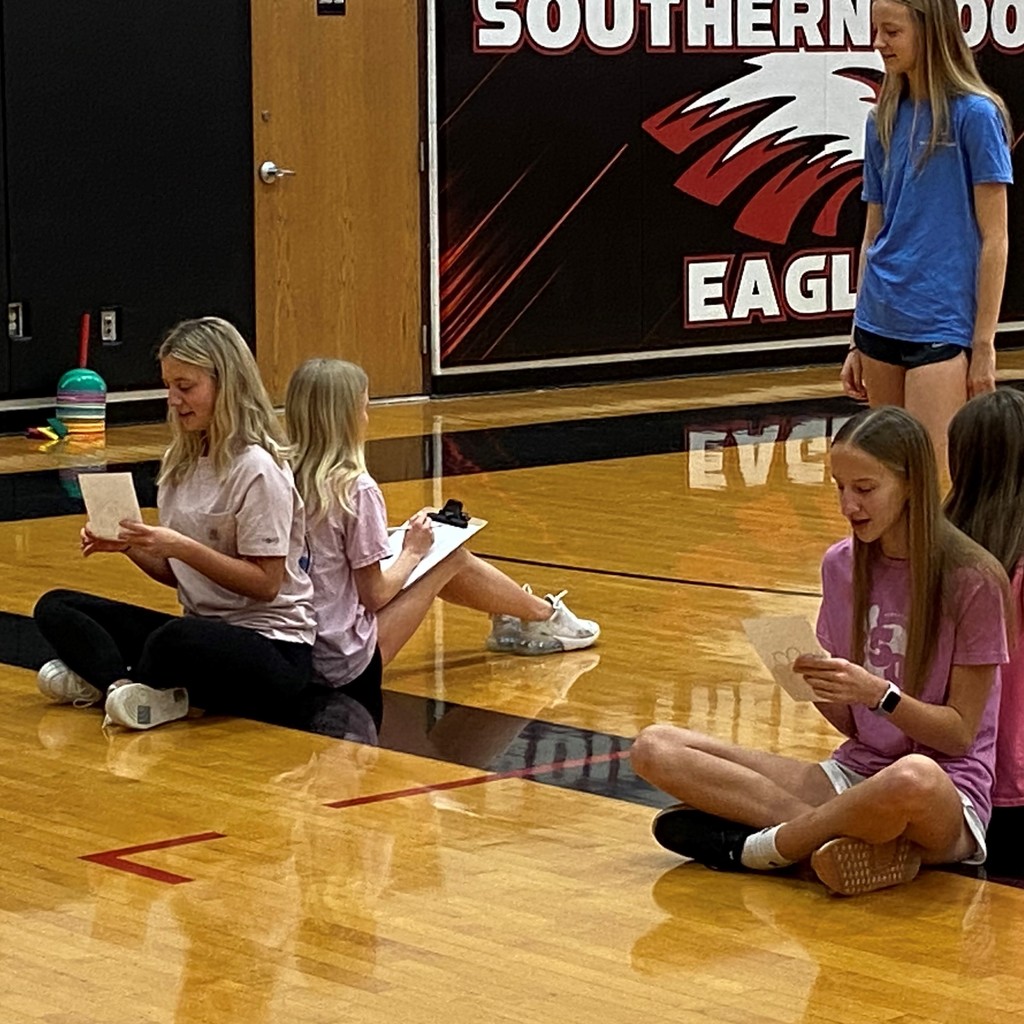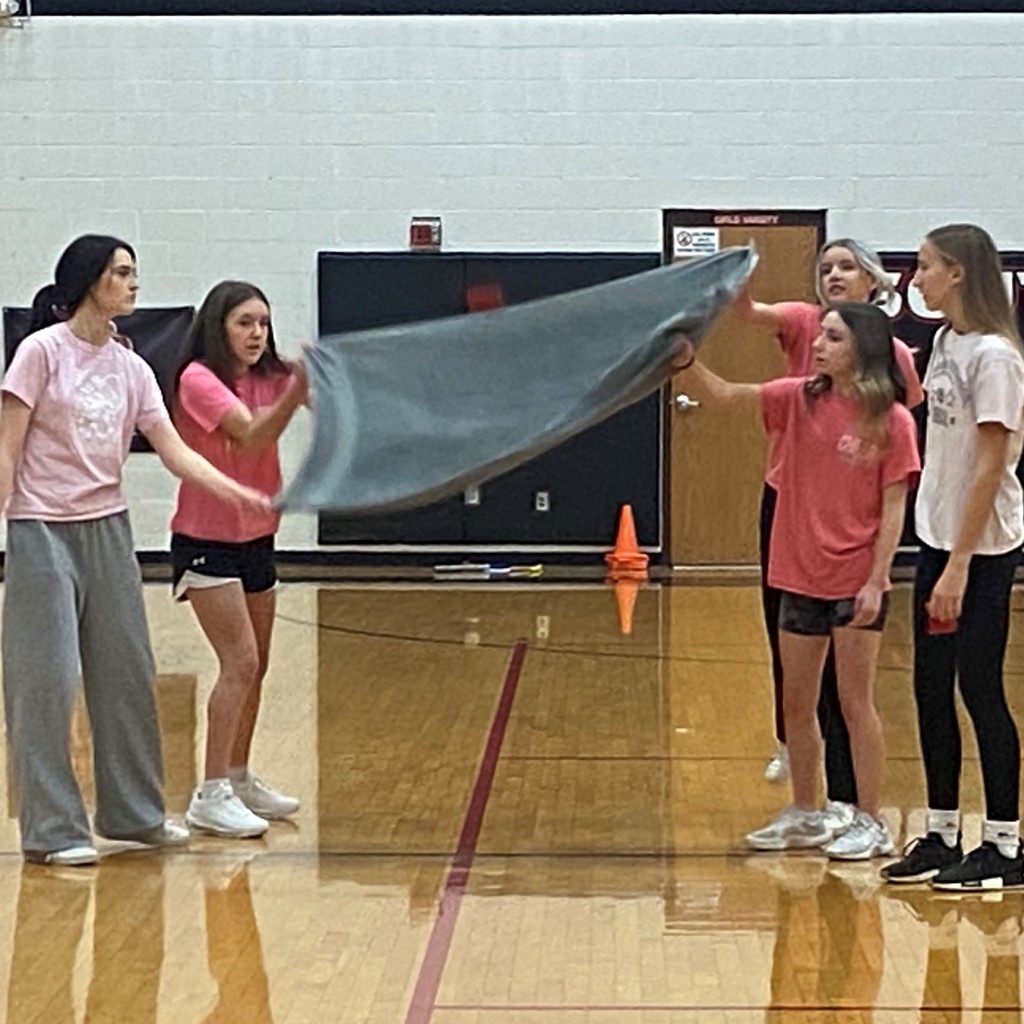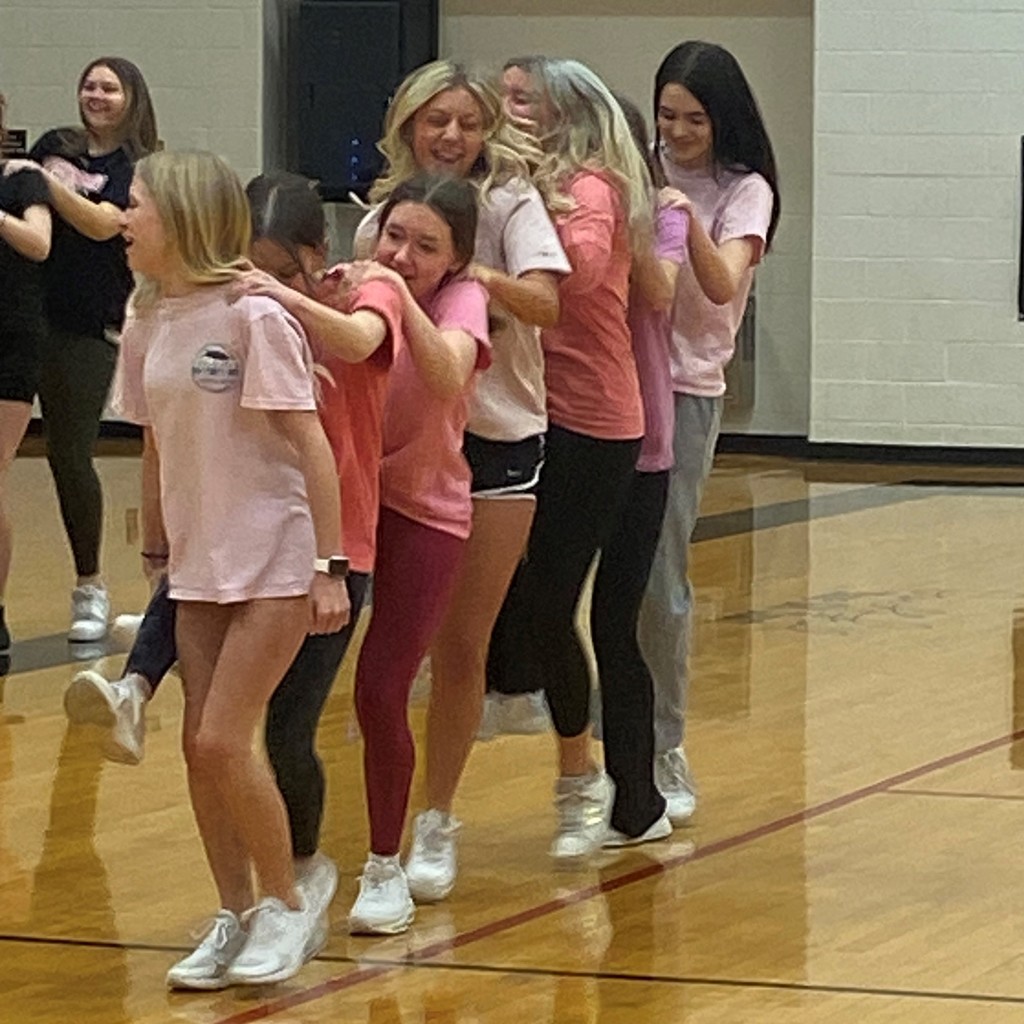 REMINDER: Spring Break is next week! The Southern Boone School District will not be in session. March 27th-31st, 2023. View the 2022-2023 district calendar here:
https://5il.co/1931s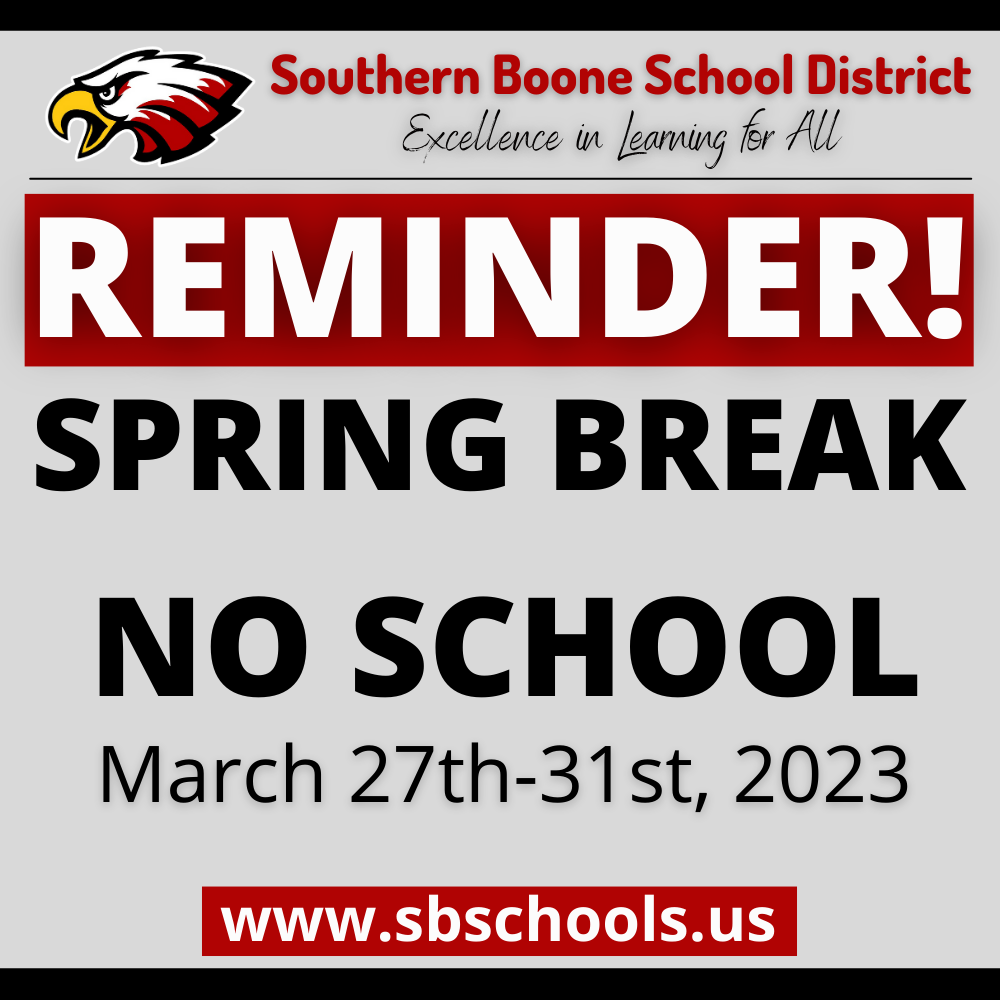 School Superintendent Dr. Tim Roth held a Lunch and Learn with high school students today. This was an opportunity for students to share their thoughts on some of the good things happening in the school and possible areas of improvement with Dr. Roth and building administrators.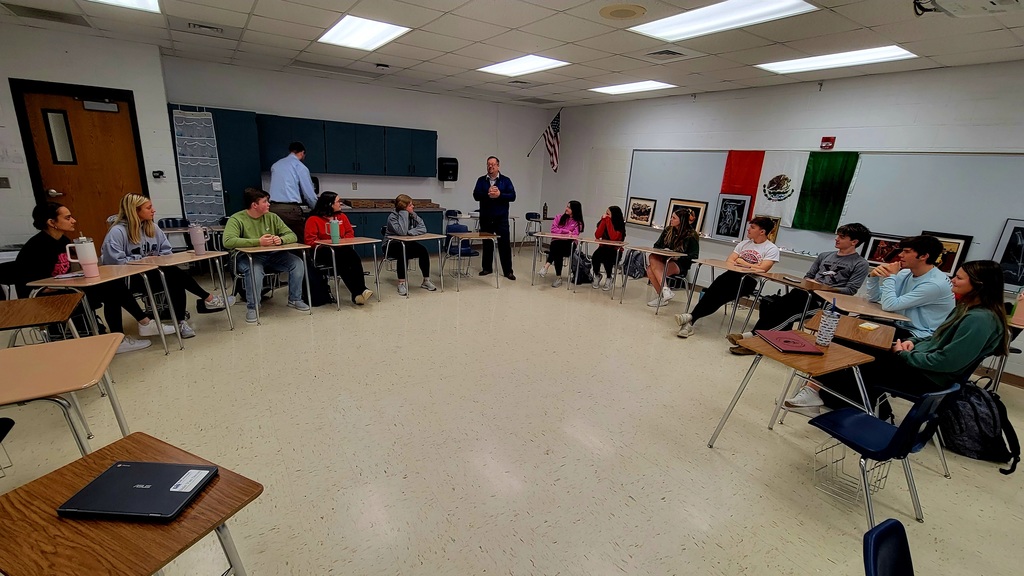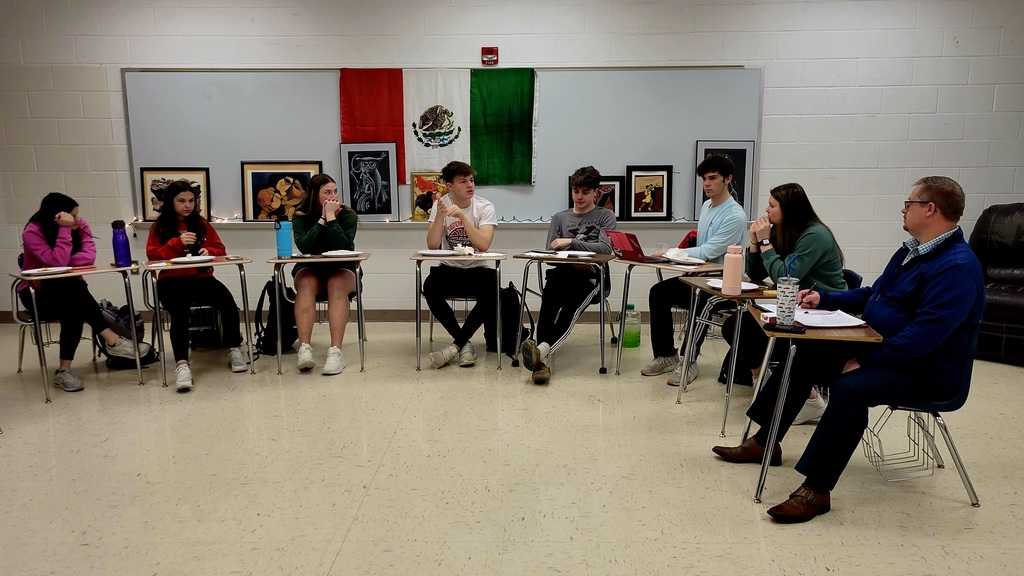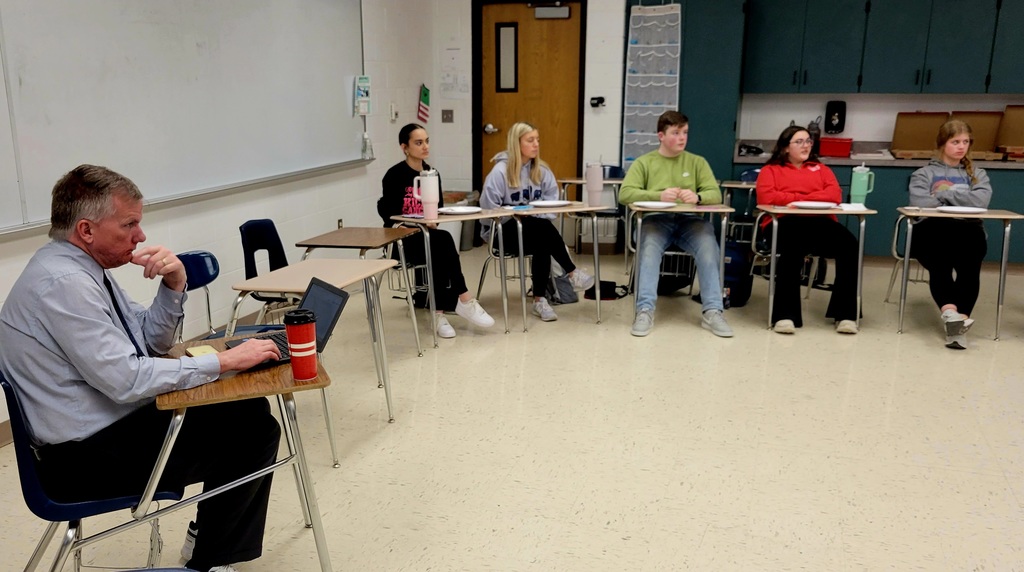 The Southern Boone School District is holding open interviews for several positions TODAY from 12PM-6PM in the central office boardroom (behind the elementary school).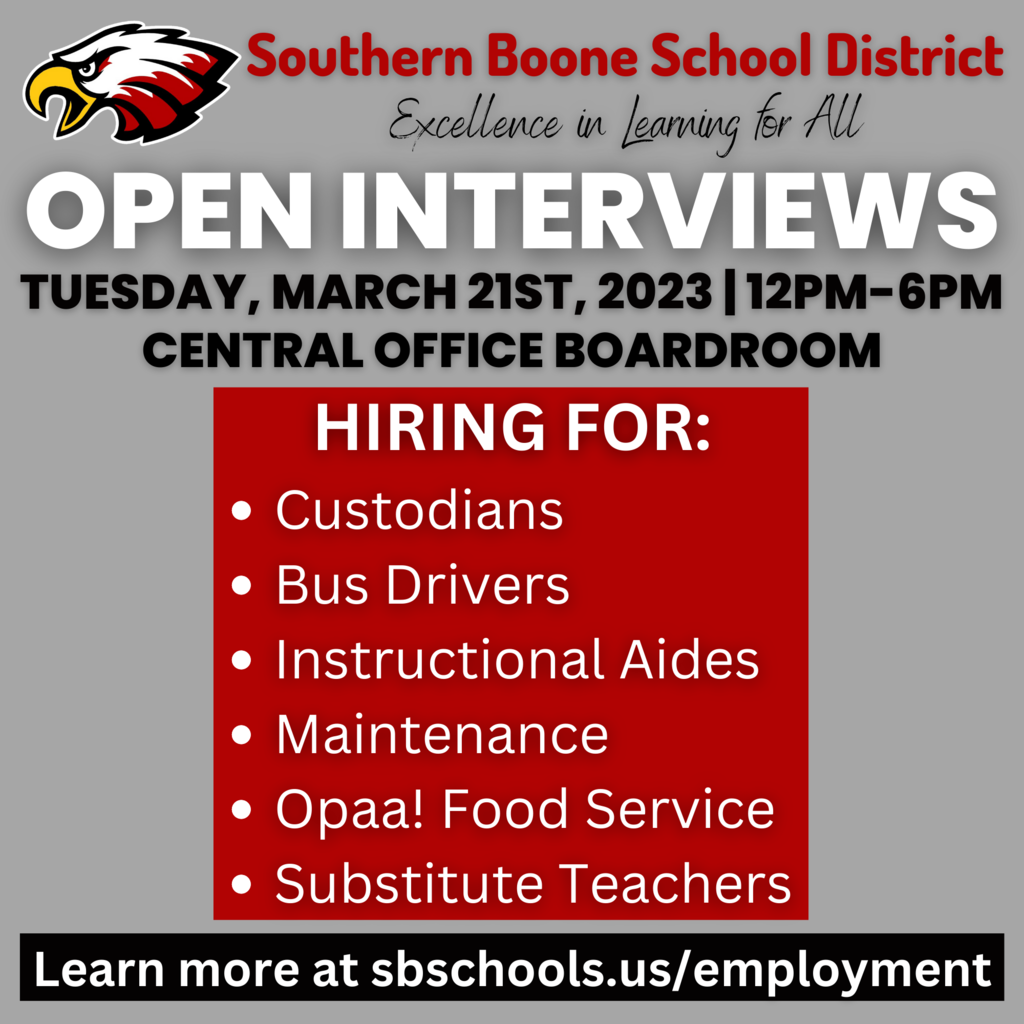 REMINDER: The Southern Boone Chamber of Commerce and Southern Boone Economic Development Council are sponsoring the Virtual Candidate Forum is this evening. The forum for candidates for the Ashland alderman races will be at 6:30 p.m. followed by the forum for candidates for the Southern Boone Board of Education at 7:30 p.m. tonight You will be able to watch the Virtual Candidate Forum live on the City of Ashland, Missouri's YouTube Channel by clicking the link below.
www.youtube.com/@cityofashlandmo8964/streams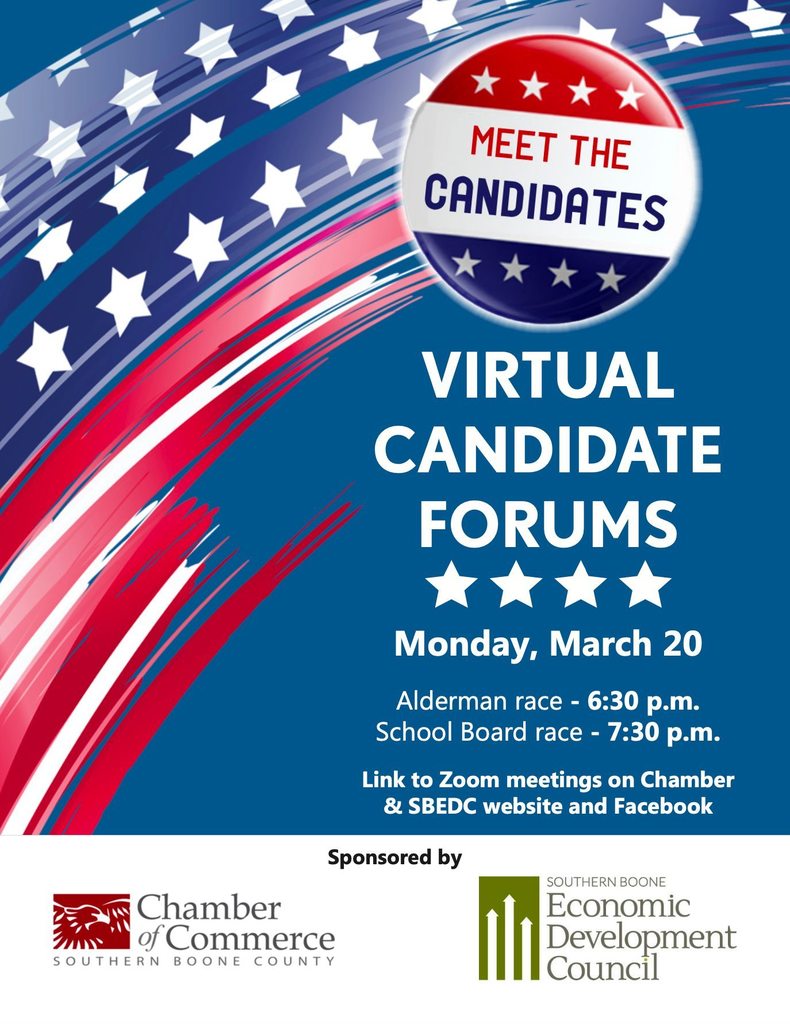 Southern Boone School District will be holding open interviews for several positions from 12PM-6PM on Tuesday, March 21st in the central office boardroom. RSVP HERE: forms.gle/SbpUyRmAhPwydis8A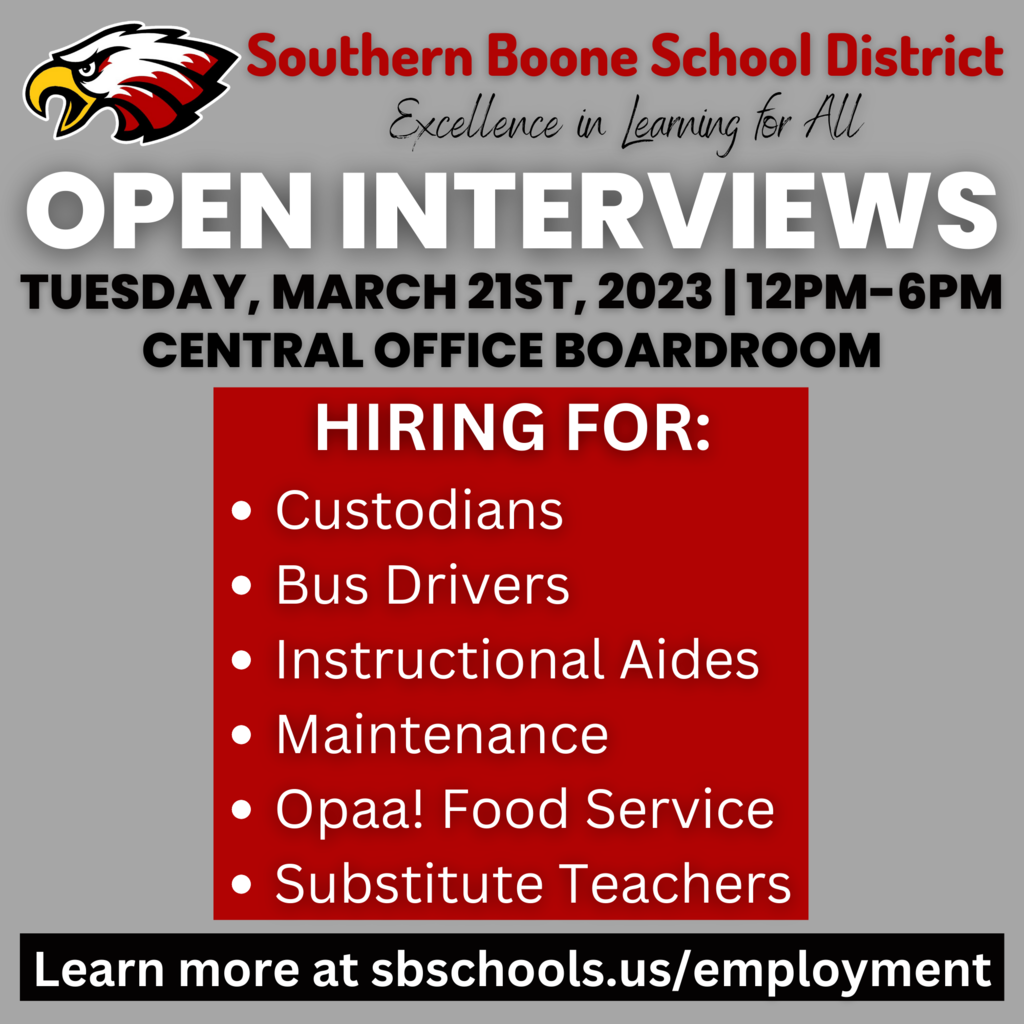 Southern Boone High School Theater Department's final performance of Rodgers and Hammerstein's Cinderella is this afternoon at 2 p.m. Tickets will be sold at the door. They are $8 for general admission, $7 for children 12 and under and $6 for senior citizens.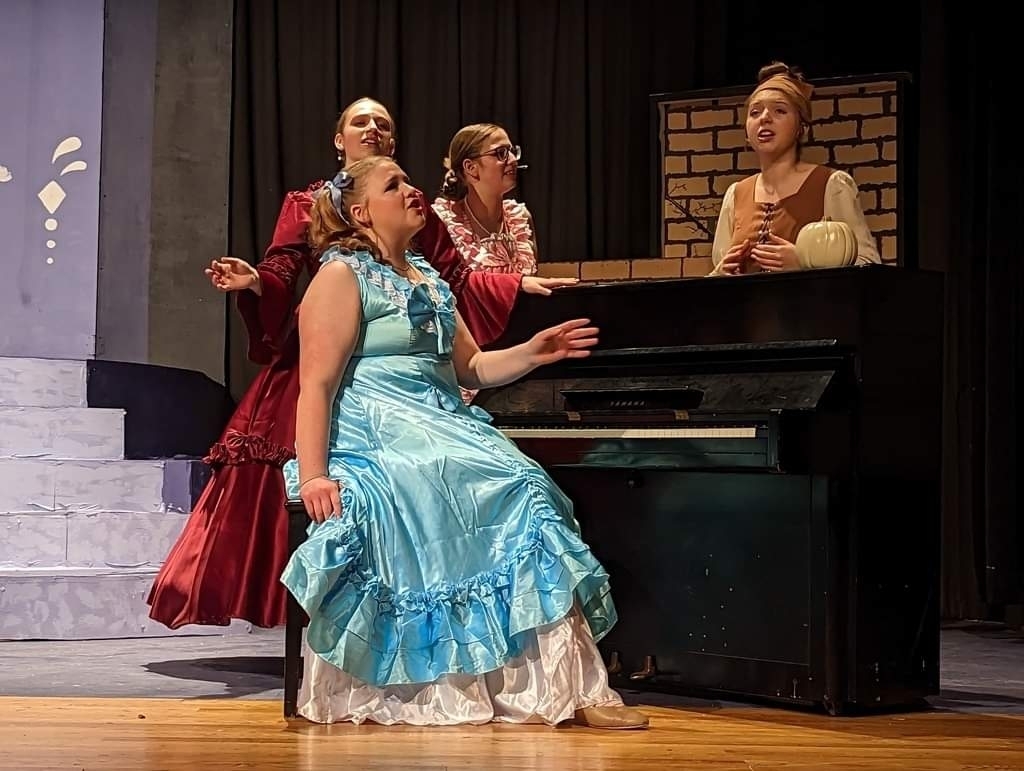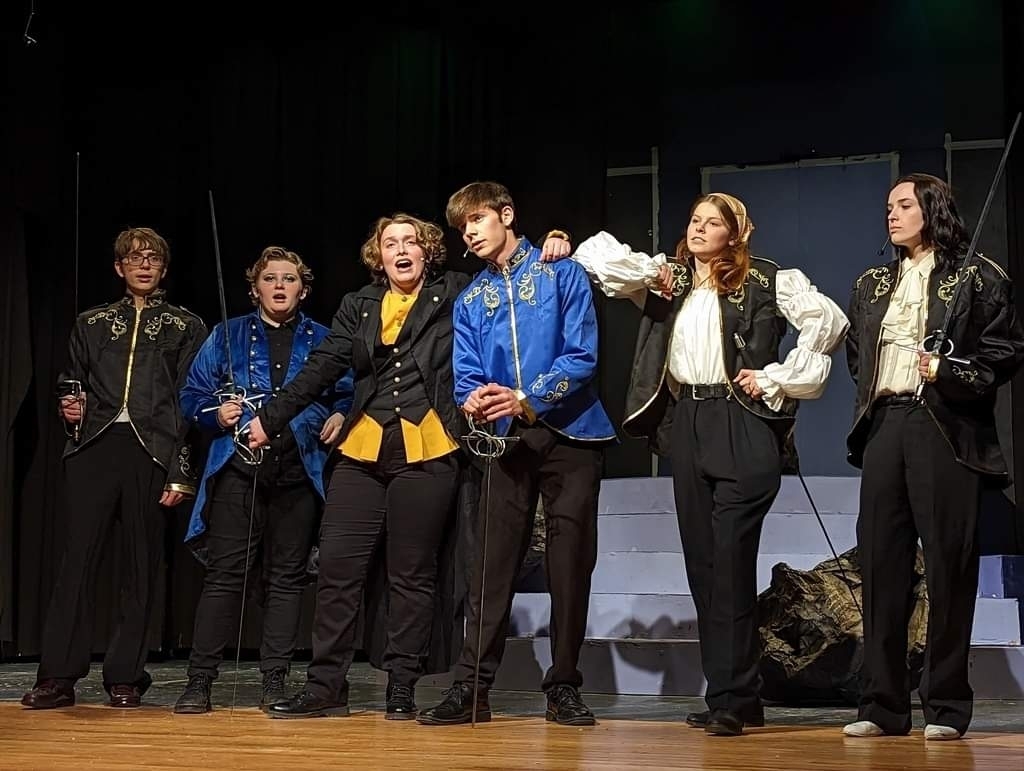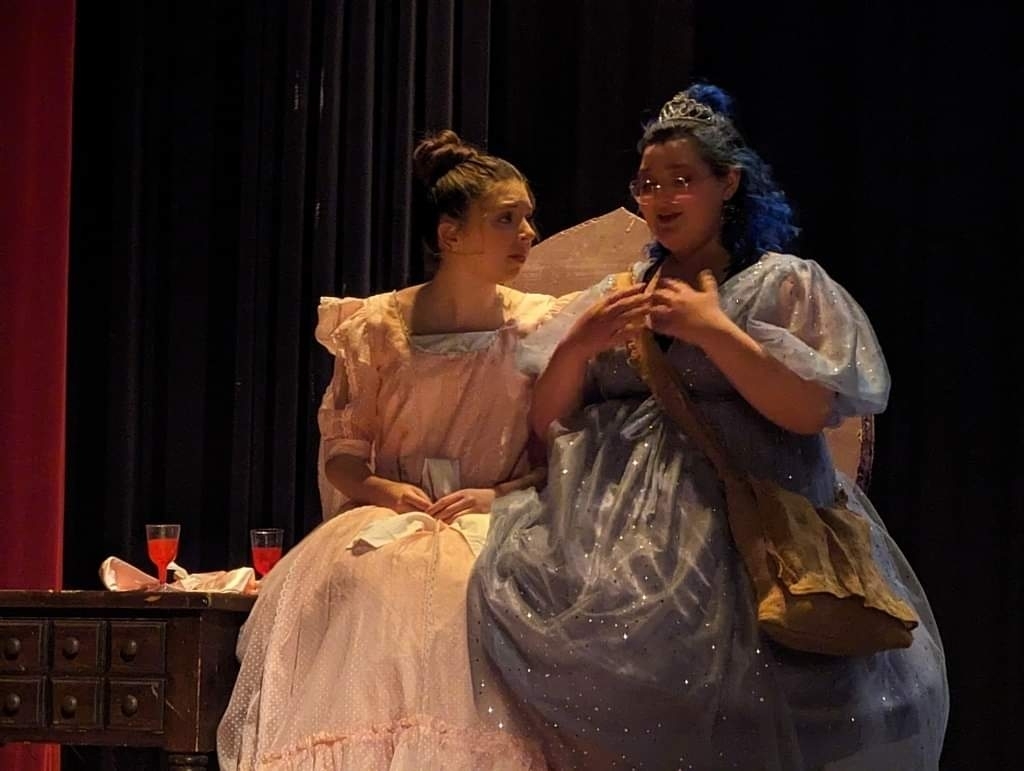 REMINDER: If you can't make it to Springfield for tonight's Southern Boone Girls Basketball game, you can listen to the game for free on the Show-Me Sports Network at 
www.show-mesportsnetwork.com
or you can watch the game live online for $15 at MSHSAA.TV.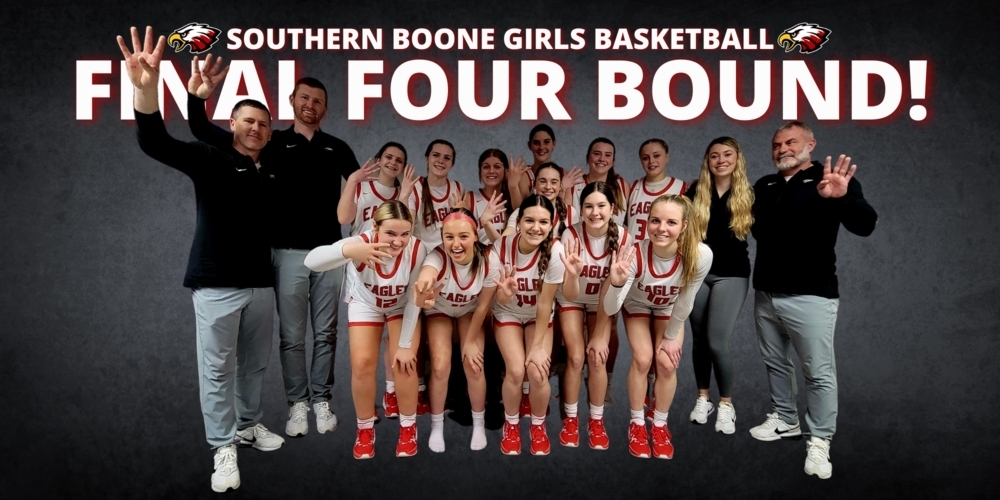 5th Grade ELA students in Mrs. Batye, Mrs.Contrades, and Ms. DeVault's classes celebrated Missouri Read-In Day last week with some fun rotations. Students enjoyed hearing their teachers' favorite books, affix glow practice, and flashlight reading.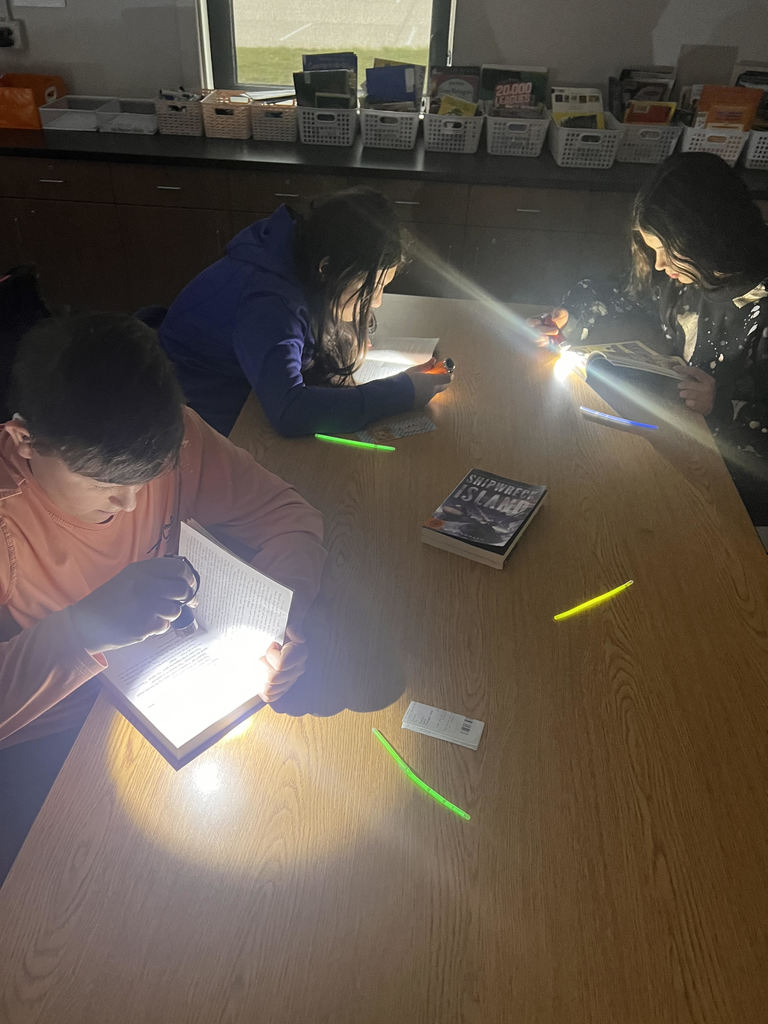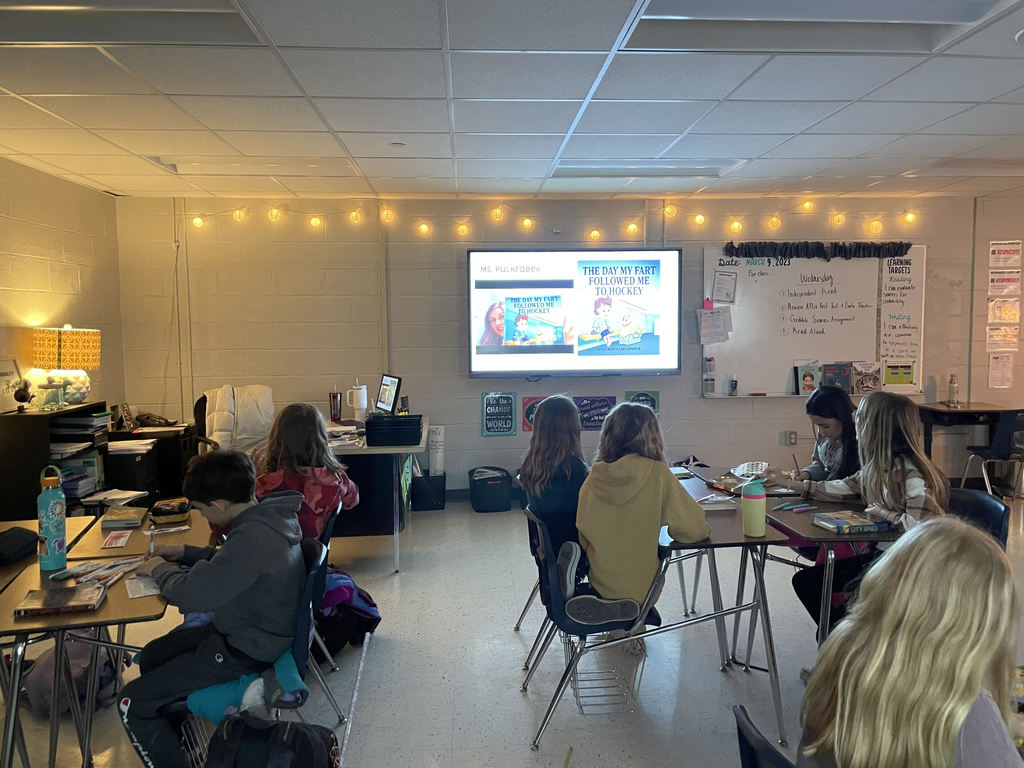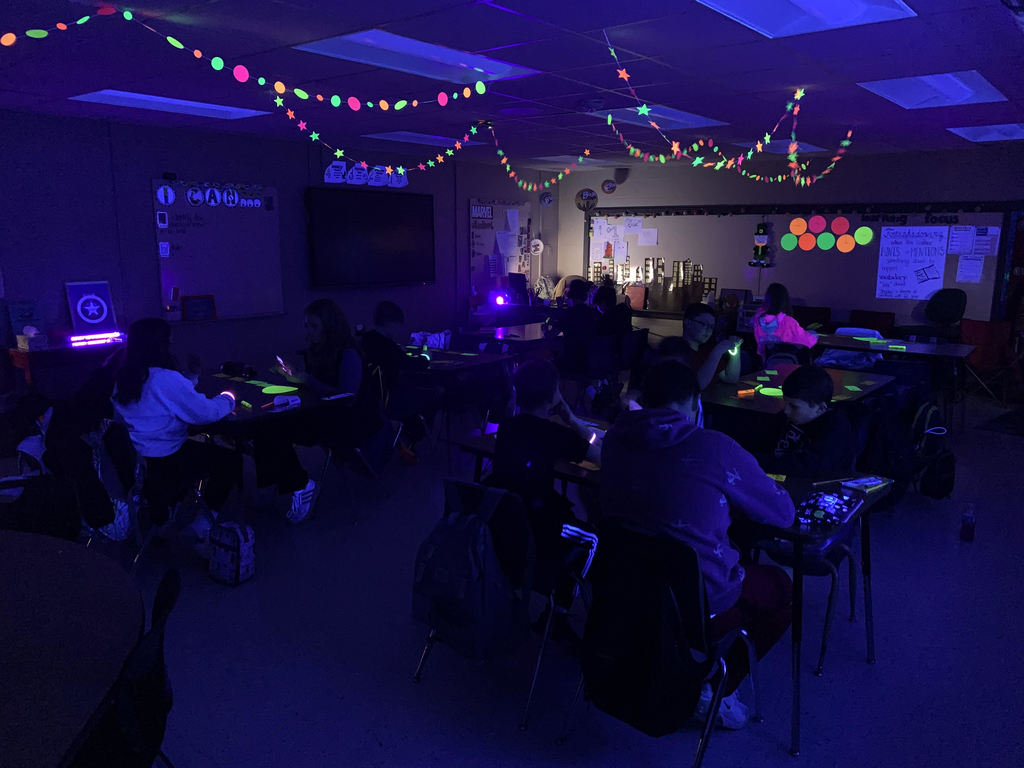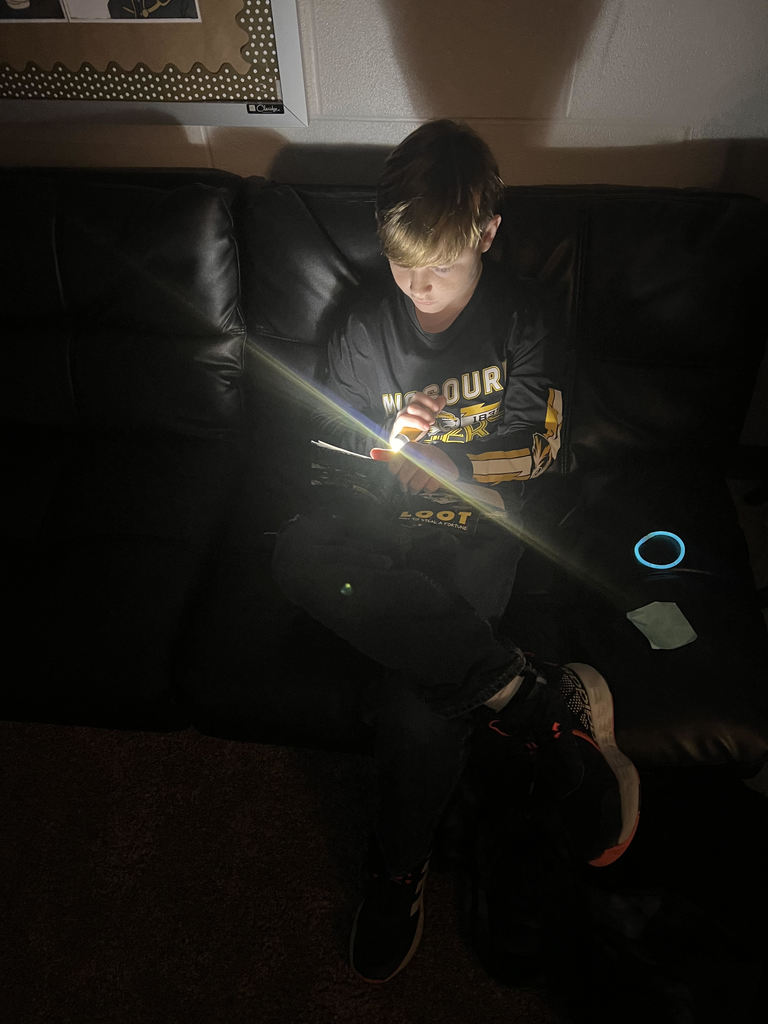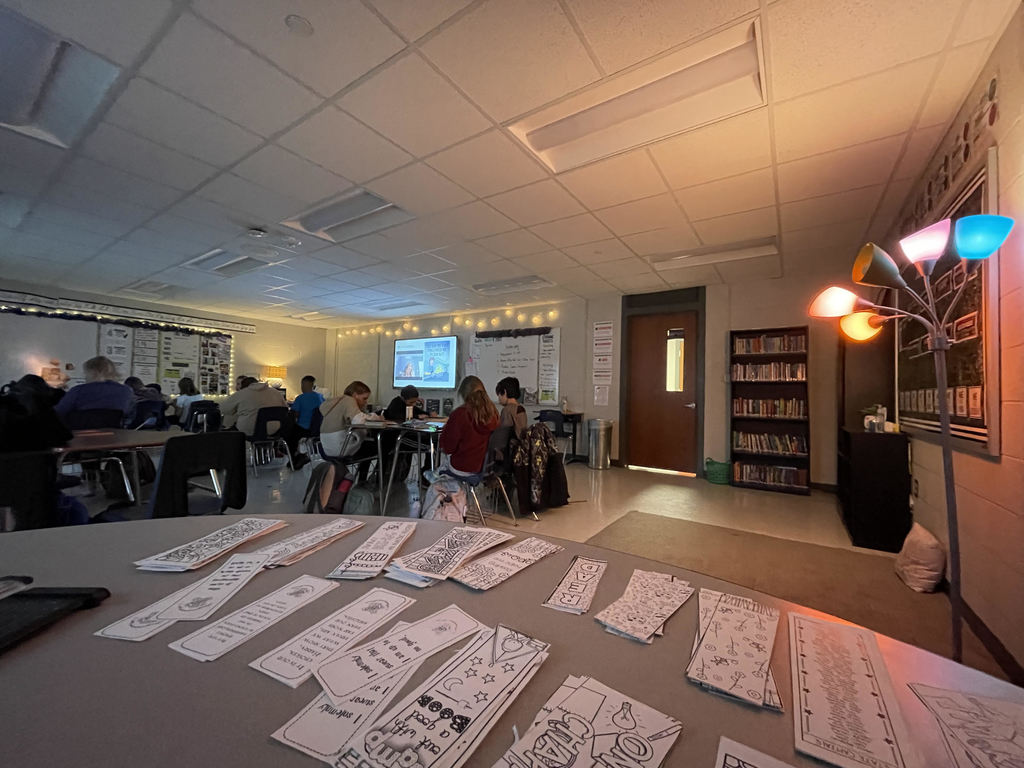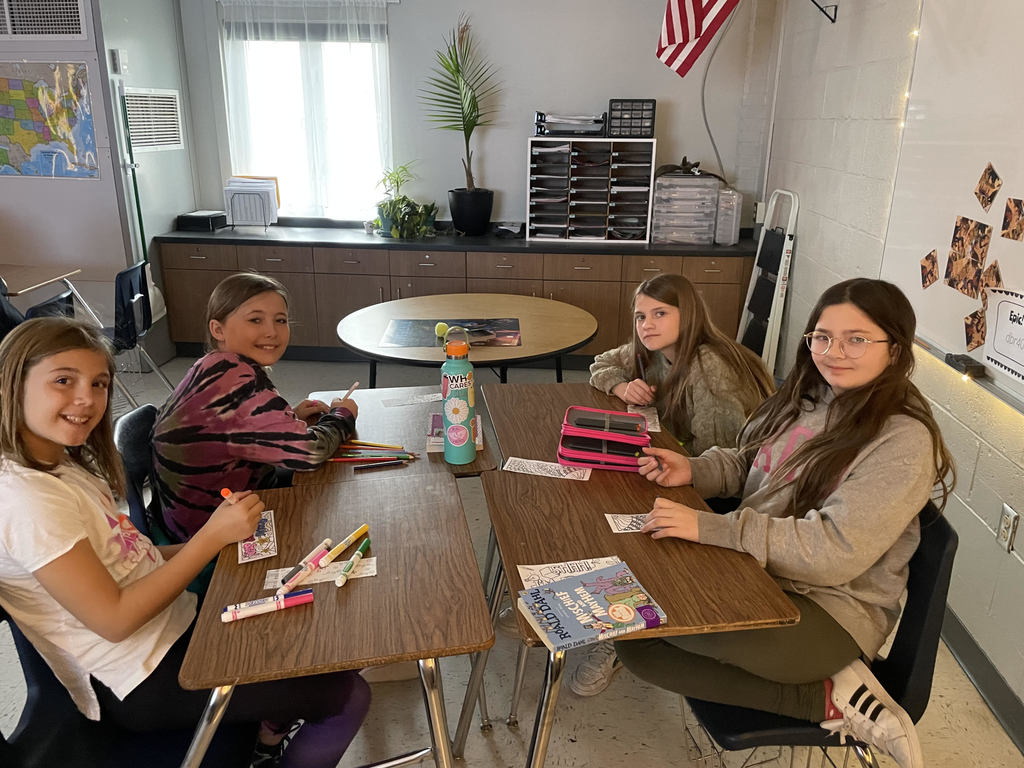 Because of the amazing generosity of our community, the school district had a prize drawing during our staff professional development day on Friday last week. Every staff member in attendance received a prize. Thank you to these businesses for their donations!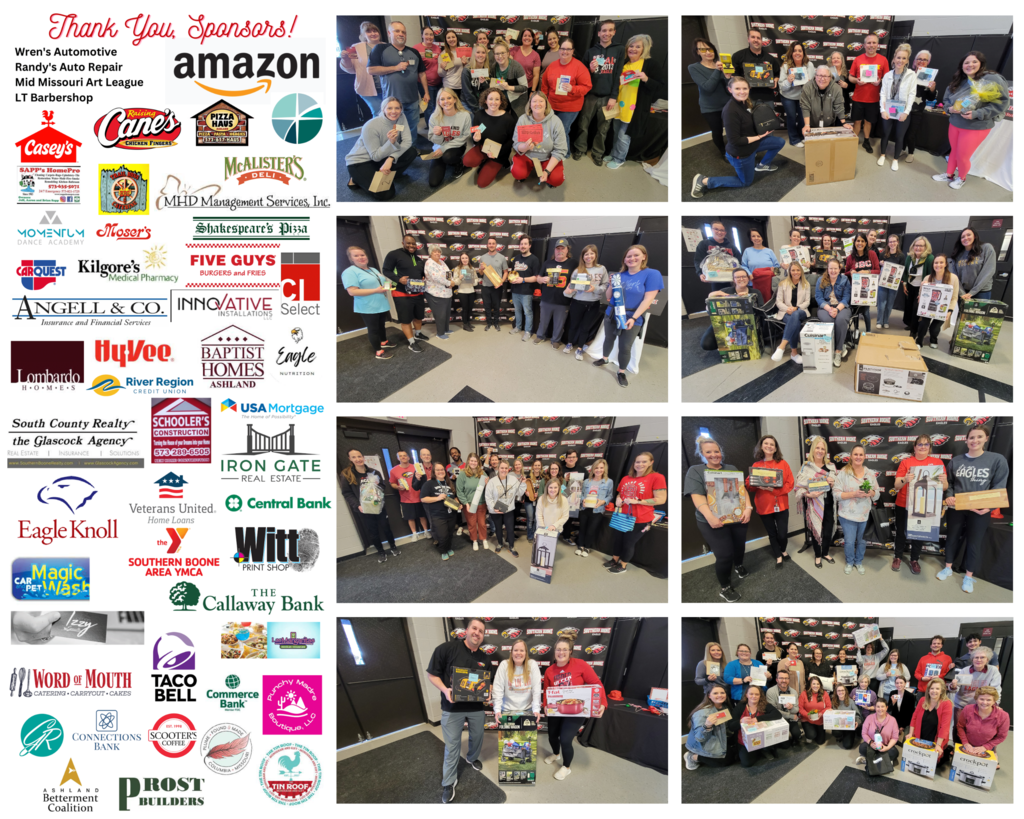 Students and staff at the high school enjoyed a pep assembly this morning for the girls basketball team as they get ready to leave for the Final Four in Springfield.